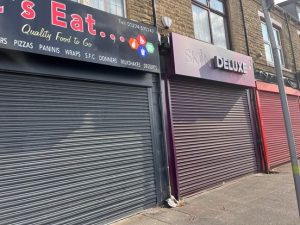 The photo shows a couple of small businesses in a high street in Bradford that have shut down.
Due to the cost of living crisis, many businesses have become bankrupt due to the high costs of production lowering profits. The Russia-Ukraine war, a worldwide shortage of energy supplies and other factors has led to gas and energy prices increasing significantly and making it too expensive to run a small firm. In addition, Bradford has high deprivation levels and low incomes so the increased costs and inflation will impact the population to a greater extent.
Also, the minimum wage has increased to £10.42, so hiring workers is difficult and costly. As a result of this, the unemployment rate in these areas will increase, lowering consumer confidence. This may impact the demand for the surrounding businesses too if consumer spending drops considerably.
The products sold by these shops (beauty, fast food) are not necessities and have many cheaper substitutes offered by large multinational corporations (whose prices are difficult to compete against) therefore they have both price and income elastic demand. As the cost of living rises and people cut down on spending, these are the first business industries to experience falling demand.