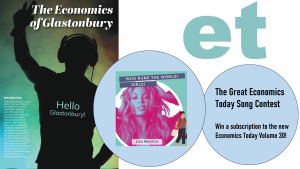 Many congratulations to Richard Cavaye and his colleagues in the Gordonstoun Economics Department who are the winners of the Great Economics Today Song Contest! They win a subscription to Volume 30 of Economics Today.  You can get yours here:
The contest involved choosing a song to link to any topic on the A-level microeconomics course.  The link could be in the song title or the group.  The winning entry as "U can't touch this!" by MC Hammer, which links to the service sector of the UK economy.
The links from the entries and quite a few that we've generated ourselves are below. There are still quite a few blank topics!  We hope you enjoy and please do keep adding suggestions by reply to this post even though the competition has now closed.
Topic
Song
Scarcity
You can't always get what you want – The Rolling Stones

All out of love – Air Supply (Gordonstoun Economics)

Goods
Touch me – Sam Fox
Services
U can't touch this – MC Hammer (Gordonstoun Economics)
Utility
(I can't get no) satisfaction – Rolling Stones (Ali Mclean)
PPFs
Borderline – Madonna
Opportunity cost
Sacrifice – Elton John

Making your mind up – Bucks Fizz

Opportunity cost – G-Eazy (dailylifeecon)

Rationality/maximising behaviour
I want it all – Queen
Demand
Gimme! Gimme! Gimme! – Abba
Supply
Stand and Deliver – Adam and the Ants
Market equilibrium
Price tag – Jessie J
Elasticity
Substitutes
Substitute – The Who
Complements
We go together – John Travolta and Olivia Newton-John
Derived demand
Composite demand
Joint supply
Productive efficiency
Nobody does it better – Carly Simon
Allocative efficiency
Invisible hand
(Invisible) hand in glove – The (Adam) Smiths – Andy Threadgould
Market failure
Externalities
Merit goods
Healing hands – Elton John (Eleni Papaspyrou, Nick Brady)
Demerit goods
Addicted to love – Robert Palmer
Public goods
Ticket to (free) ride – The Beatles

All out of love – Air Supply

Resource immobility
Stuck in the middle with you – Stealers Wheel
Imperfect information
They don't know – Kirsty McColl or Tracey Ullman
Lack of equity
Taxes
Subsidies
Maximum prices
Minimum prices
Buffer stocks
State provision
Regulation
Pollution permits
Allocation of property rights
Division of labour
Gains from specialisation
Ghost Town – The Specials
Law of diminishing returns
Economies of scale
Diseconomies of scale
Technological change
Rocket Man – Elton John (Andy Kerr)
Price makers
Price takers
Marginal analysis
One Step Further – Bardo

One Step Beyond – Madness – Nick Brady

Profit maximisation
Divorce of ownership and control
Satisficing
Perfect competition
Perfect – Fairground Attraction   Perfect – Ed Sheeran
Monopoly
Soul Provider – Michael Bolton
Price discrimination
Monopolistic competition
Oligopoly
The name of the game – Abba
Kinked demand curve
Sunny Afternoon – The Kinks
Collusive oligopoly
Let's stick together – Bryan Ferry

Riders on the storm – The Doors (Chuck McNicholls)

Competitive oligopoly/price wars
Two tribes – Frankie Goes to Hollywood
Entry barriers
Stop – Sam Brown   Locked out – Crowded House
Product differentiation
Advertising Space – Robbie Williams
Contestable markets
Take it to the limit (price) – Eagles
Demand for labour
Supply of labour
I ain't gonna work on Maggie's farm no more – Bob Dylan (Gordonstoun Economics)
Wage determination/wage differentials
Wages Day – Deacon Blue
Trade unions
All Together Now – The Farm

Only You – The Flying Pickets

Union City Blue – Blondie

Monopsony employers
Bilateral monopoly
Two Tribes – Frankie Goes to Hollywood
The national minimum wage
Distribution of income
Distribution of wealth
Gini coefficient
Gini in a Bottle – Christina Aguilera
Poverty
Competition policy
Privatisation
Nationalisation
Deregulation
Behavioural economics
Bounded rationality
Bounded self-control
Present moment bias
Availability bias
Anchoring
Social norms
Altruism
Nudges
Choice architecture
Default option
Framing
Restricted choice
Mandated choice