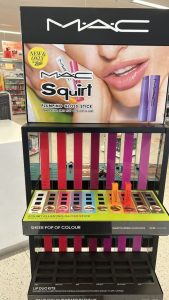 This photo shows a sign for a lip product by MAC which reads "New and only at Boots".
With new products and brands entering the cosmetics market every year, the demand within the industry is fascinating. It is a very valuable market and trends show that the industry is only to expand further.
Makeup and Skincare has become an indispensable part of the modern lifestyle of millions of individuals across the world. Furthermore, it is a sector heavily influenced by social media, trends and fashion which are key determinants of demand.
In specific, this store has framed the product "only at Boots" to drive up sales further as the product is shown to be of limited availability.
The market is extremely competitive, but it's not necessarily a bad thing as it drives companies to be innovative and it can also result in lower prices for consumers, leading to increased consumption.
Even during times of extreme inflation and recessions, sales of cosmetics remain strong this can be described using the "lipstick index". It's the principle is that people see lipstick as an affordable luxury, so sales aren't impacted during times of duress.