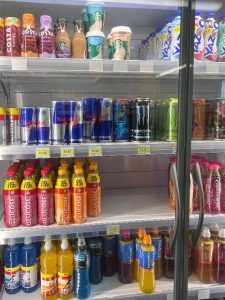 This photograph was captured in Londis, the sole local convenience store in Mayfield. Being the only player in the market, Londis holds a dominant position and possesses the power to dictate prices, thus making it a price maker. This lack of competition in the market suggests that Londis operates as a local monopoly. In a monopoly market like the one depicted in the picture, there are usually high barriers to entry, making it nearly impossible for another convenience store to establish itself in Mayfield. This lack of potential competition further solidifies Londis' monopoly status, allowing them to operate without the pressures of price competition.
The image highlights an intriguing phenomenon often observed at Londis. Towards the end of the day, and sometimes even in the afternoon, the most popular drinks or goods frequently run out of stock. Remarkably, despite having additional stock available in the back, Londis deliberately refrains from restocking until the following day. This strategic decision can be attributed to the monopolistic nature of the market.
The observed behaviour at Londis, where the store restricts supply despite having available stock, can be attributed to their understanding that customers will continue to purchase the desired goods regardless of the prices charged. This is because of the absence of alternative convenience stores in the vicinity, leaving customers with no other option. As a result, Londis can maintain higher prices and limit supply to maximize their profits in the absence of competitive pressure.