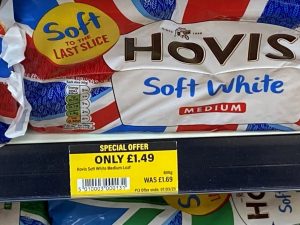 The photo was taken at my local corner shop. The shop is one of 3 in my local area.
The elasticity of bread is inelastic as it can be considered a necessity and as such the price shouldn't have a significant effect on the quantity demanded of bread, so a fall in price would reduce revenue. We can see that the shop decided to reduce the price of the bread by 20p, this seems counter-intuitive considering the recent rapid rise in food inflation which ran about 17% and should therefore push prices up, meaning less disposable income is available to consumers as they spend more on necessities. Consumers therefore have less purchasing power and disposable income so purchase more inferior goods. Inferior goods are goods which as income falls, quantity demanded of them rises.
The shop being located to 3 other competitors will drive competition in the local area for customers and as such lowering the price of this branded bread may be an incentive for consumers to shop at this particular store in order to maximise their utility by spending less money on well-known brands. It may act as a loss leader, enticing customers in to spend more money on other products.