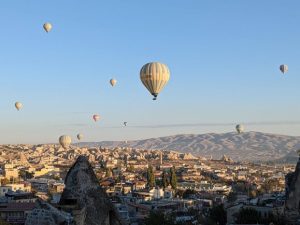 This picture shows Cappadocia, Turkey. This town relies heavily on tourism to provide for its residents meaning many of them work in the tourism and hospitality industry. Cappadocia utilises specialisation in order to maximise their productivity allowing the town to prosper.
This is because a number of locals are trained as hot air balloon pilots as these rides are a popular tourist attraction. There are many steps required for a successful hot air balloon ride and locals use division of labour in order to be more efficient and skilled at their role.
Regional specialisation is beneficial for Cappadocians as they are able to focus development of infrastructure to support production. For example, building more take-off and landing points for hot air balloons and better roads leading to them. This large scale of production for hot air balloon rides also enables economies of scale to be gained as bulk-buying of equipment leads to lower cost per unit output.
Cappadocia harnesses its unique natural resources in all aspects of life. Soft sandstone Cappadocian rock is used to make houses, churches and hotels. Building and maintaining these requires skilled workers, creating jobs for locals who can specialise in working with this material.