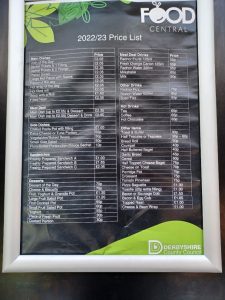 – This photo shows the price list for a school canteen.
– It is an example of a monopoly power as it is the only supplier within the market. The market is selling school food for children and therefore there will be a high demand as most children choose to eat at school (around 90%). However, monopoly powers often come with problems because they have no competition and therefore, they would have no incentive to improve the quality of the product and have the freedom to increase the prices as they wish.
– However, in this market, the local authority (council) set the prices of the school food and therefore remove the total power that the monopoly power has. This helps the consumer (students) as the market is highly regulated to ensure that the product is of a satisfactory standard and that the prices are affordable and reasonable for both business and consumer.