Macroeconomics for A Level Year 2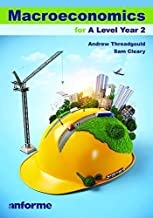 Macroeconomics for A Level Year 2
Everything you need for Year 13 Macroeconomics from Andrew Threadgould and Sam Cleary.
£8.95 £4.00
Stock: 40
Details
Licenses
Delivery / Returns
Andrew Threadgould and Sam Cleary are experienced authors and teach at Dulwich College.
They have produced a book for the current A-level specifications covering all the relevant macroeconomic theory.
The book is in A4 format and in full colour and runs to 84 pages and contains the following chapters: – The Economic Cycle – Policy Conflict in the Macroeconomy – Growth and Productivity – Exchange Rates and Exchange Rate Systems – International Trade – Protectionism – The Economics of Globalisation – The Economics of Finance and Banking – The UK and the European Economy – Economic Development – Challenges for the Global Economy.