Labour Markets 6th Edition: The Economics of Work and Leisure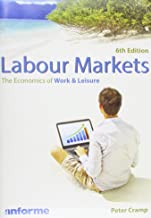 Labour Markets 6th Edition: The Economics of Work and Leisure
Peter Cramp covers the Labour Markets section of the A Level specs with incredible precision and clarity.
£8.95
You must sign in to purchase this product.
Details
Licenses
Delivery / Returns
The author is Economics Factory's founder, Peter Cramp, who is also Head of Economics at Nottingham High School and an experienced examiner.  With cumulative sales to date of well over 30,000 copies, this book offers full coverage of the labour market sections of the A-level specifications of all major exam boards.  It's an area of the specification that many students find tricky but this book aims to make comparatively straightforward with its clear and concise approach.  It's so important not to limit our students to choosing just from product market questions in their A Level Micro exam.