The Global Economy: Theme 3 for Edexcel A Level Economics B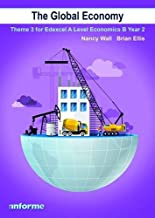 The Global Economy: Theme 3 for Edexcel A Level Economics B
Full and comprehensive coverage of Theme 3 Edexcel B from Brian Ellis and Nancy Wall - please note that an updated edition is available for a slightly higher price.
£8.95
You must sign in to purchase this product.
Details
Licenses
Delivery / Returns
The authors are Nancy Wall who is a former Editor of "Teaching Business and Economics" and works in curriculum development and Brian Ellis, a former Chief Examiner for Edexcel's A Level Economics and Business Course and Chair of Examiners. This book is in full colour and runs to 120 pages and includes many case studies, exam style questions and an index of key terms.
The full contents of the book are: What is the impact of global economic growth? How significant is the growth of trade? How do trading blocs work? Trade policy and trade negotiations Explaining exchange rate changes Why trade internationally? Where are the potential locations? Globalisation and global economies Culture, communication and marketing How do multinational corporations affect businesses and people? What are the ethical issues with MNCs? Can MNCs be controlled? Employment patterns What determines rates of pay? Making minimum wage legislation work How do we measure poverty and inequality? Reducing poverty What are the effects of inequality? Can income and wealth be redistributed? Index